That feature is available only to registered users.
If you are a registered user, please login below.
If you would like to register as a new member, please do so here.
Long Island Personals, Long Island Dating, Long Island Singles

Long Island Personals is a FREE service dedicated to Long Island and the surrounding region. All our members are local to Long Island, giving you a better chance at meeting someone special.

We have thousands of Long Island singles who are looking for fun, romance, dating and more!

Whether you are looking for a friend, lover, chat buddy, casual dating, or something more serious, you can find your LOCAL match at Long Island Personals!
<! -- Member Login End -->

Long Island Personals Featured Members

Fun Italian Male ;-)
Dave, 32, from Suffolk, seeking: My Ideal partner is a lady who knows what she wants out of life. Who loves to have fun no matter where we go.Also someone who loves to laugh. I lov...

Looking For A Great Guy
Rachana, 43, from Suffolk, seeking: I truly get how important pets are to lots of people, so I want to let you know that I'm allergic to cats. The good news is I'm good with little do...
Featured Links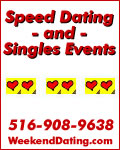 ---
Your Ad Can Be Here!
Email for details!